The cycle peak prices have shown that Bitcoin (BTC) price could reach $150,000 by July 2023, a crypto analyst and trader has inferred.
While this assertion is coming at a time Bitcoin has been managing to break out of the $4,100 line it has been maintaining fro few days now, the crypto expert by the name Josh Rager believes the next Bitcoin rally could go high above $150,000.
Rager, who is a community ambassador at Level, a platform offering a full crypto exchange with unlimited, zero-fee trading for members, posited that "the next Bitcoin cycle should peak out in July 2023".
Based on the Bitcoin Cycle Peak Prices which indicates that in 2011 ,BTC was $31, in 2014, Bitcoin was $1,177 and $19,764 in 2017.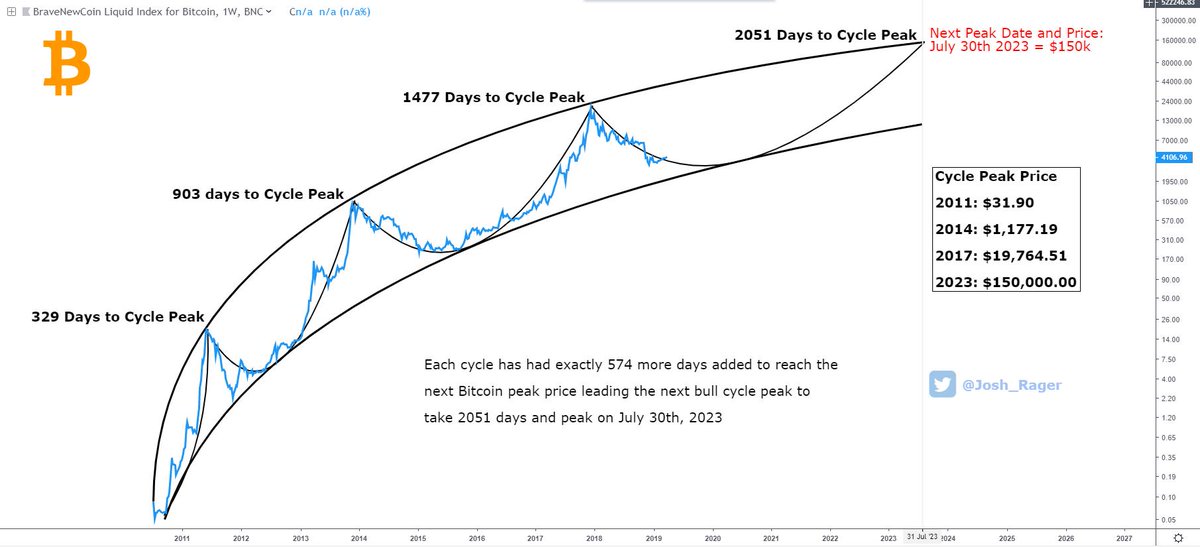 According to him, the next BTC peak is coming in 2023, and the price of BTC by the middle of that year is projected at $150,000+.
Rager says Bitcoin will hit a new all-time-high before 2023, however, it will peak in 2023. He added that a new ATH can hit in 2021.
Team Draper Maintains His $250K Bitcoin Price Prediction
Some certain expert are bullish on the price of Bitcoin. Billionaire crypto venture capitalist Tim Draper predicts that the price of Bitcoin will reach $250,000 by 2022.
He said: "I am sticking to my original prediction – Bitcoin will hit 250k by 2022."
Bitcoin (BTC) Price in the Market
As at the time of writing, Bitcoin (BTC) price is around $4,134 with a Dominance of 50.1%. BTC has a market cap of $72.8 billion and a market volume of $9.8 billion. Bitcoin, which has a circulating supply of 17 million BTC, has a little price increase today. In the last 24 hours, BTC has seen 0.84% price increase.