Fake news pumps Bitcoin SV
Bitcoin SV issues with crypto Twitter
Craig Wright Files Copyright application
BSV Creator Sues Peter McCormack
---
A viral fake news on Binance and Craig Wright has enticed Chinese investors to drop their funds on Bitcoin SV, pushing the price of BSV up by over 50%.
The fake news reads that Craig S. Wright transferred a whopping 50,000 BTC from the biggest Bitcoin Wallet to Binance, dictating that he's the real Satoshi Nakamato. The viral update added that Craig S. Wright showed through the action that he's Satoshi.
As such, Binance CEO, Changpeng Zhao, will as a matter of urgency relist Bitcoin SV and officially apologise on Twitter.
Fake Bitcoin SV News
The viral fake news, was translated by crypto enthusiasts Dovey Wan reads:
"CSW transferred 50k BTC from the biggest BTC wallet to Binance, which confirmed he is the real Satoshi. As such CZ will re-list BSV and make an official apology on Twitter".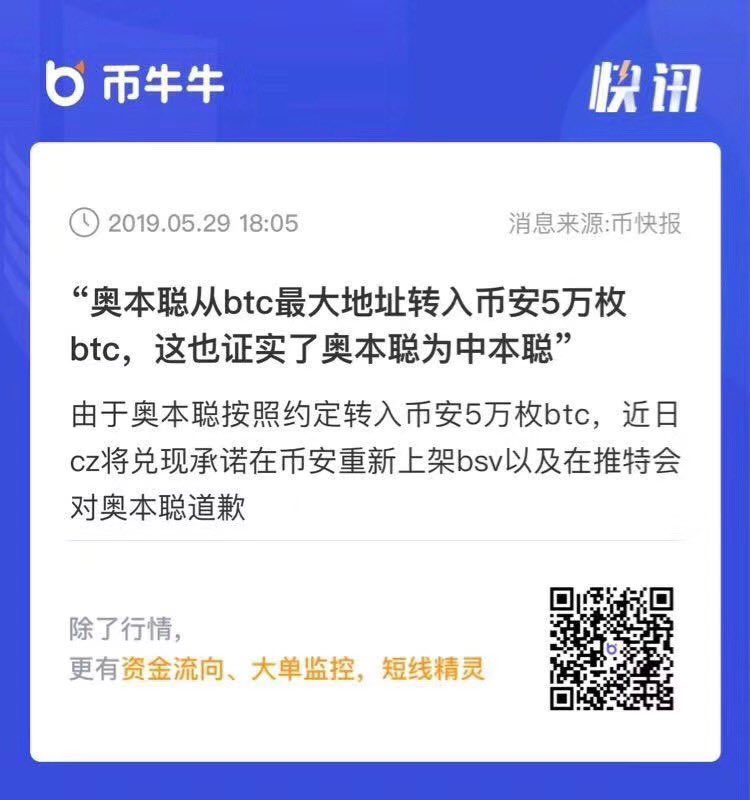 The viral news, according to Wan appeared to be purposely innovated by an unknown person, and shared widely by nearly all Chinese cryptocurrency news platforms across the country.
The propagator of the fake news used the picture of Bishijie, a reputable Chinese crypto news media.
While it may be hard to say the fake news contributed to BSV price pump, the snapshot went viral in the country.
Dovey said: "I don't know how much this contribute to the pump, but this fake news snapshot went viral in many Chinese retail groups around the same time and folks (thought it was real) got super excited.
Binance CEO Responds to the News
Binance's CZ confirmed the price upsurge was caused by a fake news circulating in China.
The crypto entrepreneur said he was pinged 20 times today by people, but clarified it's fake
"Careful, it's caused by fake news circulation in China. I got pinged 20 times today, clarifying it is fake."
Binance Delisted BSV
Mid April, Binance decided to delist BSV after the originator of the digital asset threatened to sue any member of Crypto Twitter who calls him Fraud.
Binance CEO earlier warned Craig Wright to desist from attacking twitter users who said he's not Satoshi Nakamoto.
How the Discord Started
Craig's attack on Hodlonaut, a cryptocurrency analyst on Twitter and some others fueled the decision of Binance to delist BSV. However, the exchange did not mention the twitter issues among the reasons it decided to delist BSV.
Binance afterward, went to Twitter to call Craig Wright a fraud, saying "the real Satoshi can digitally sign any message to prove it," and that doing so would be simple.
At the time Wright forwarded a desist letter to Peter McCormack, who has been afore calling Craig Wright a fraud.
Other exchanges like ShapeShift, Kraken, SBI VC, and many others delisted the digital currency.
Copyright Application Filed. Will Craig Finally Become Satoshi Nakamoto?
Craig Filed a copyright application with the U.S Copyright to claim the authorship of Bitcoin Codes and Whitepaper, thereby giving him the opportunity to be called pseudonym Satoshi Nakamoto.
However, Coingeek published that US Copyright had recognised Craig Wright as the real Satoshi Nakamoto. The information was later confirmed to be false by the US Copyright Office, who claimed Craig only filed an application and has not been confirmed to be the author of the Bitcoin code and whitepaper.
Bitcoin Satoshi Vision (BSV) in the Market
Bitcoin Satoshi Vision (BSV) is changing hands at $184 with 53% increase in the last 24 hours. The sudden price surge pushed Bitcoin SV above $180 in a very short time. Now BSV has a market cap of $3 billion with a 24hr trading volume slightly over $1 billion.
Image Credit: Dovey Wan.