Finally, after lots of accusations from the cryptocurrency community, Tron (TRX)'s Justin Sun has finally accepted to give two Tesla, adding the name of XRP_UzGar, an XRP supporter who was earlier contacted by Justin Sun as the winner of the lottery draw.
While reversing his earlier decision, Justin Sun said he "decided to offer two Tesla" purposely to bring awareness to the blockchain community, foster on transparency, reliability and openness in Tron's values.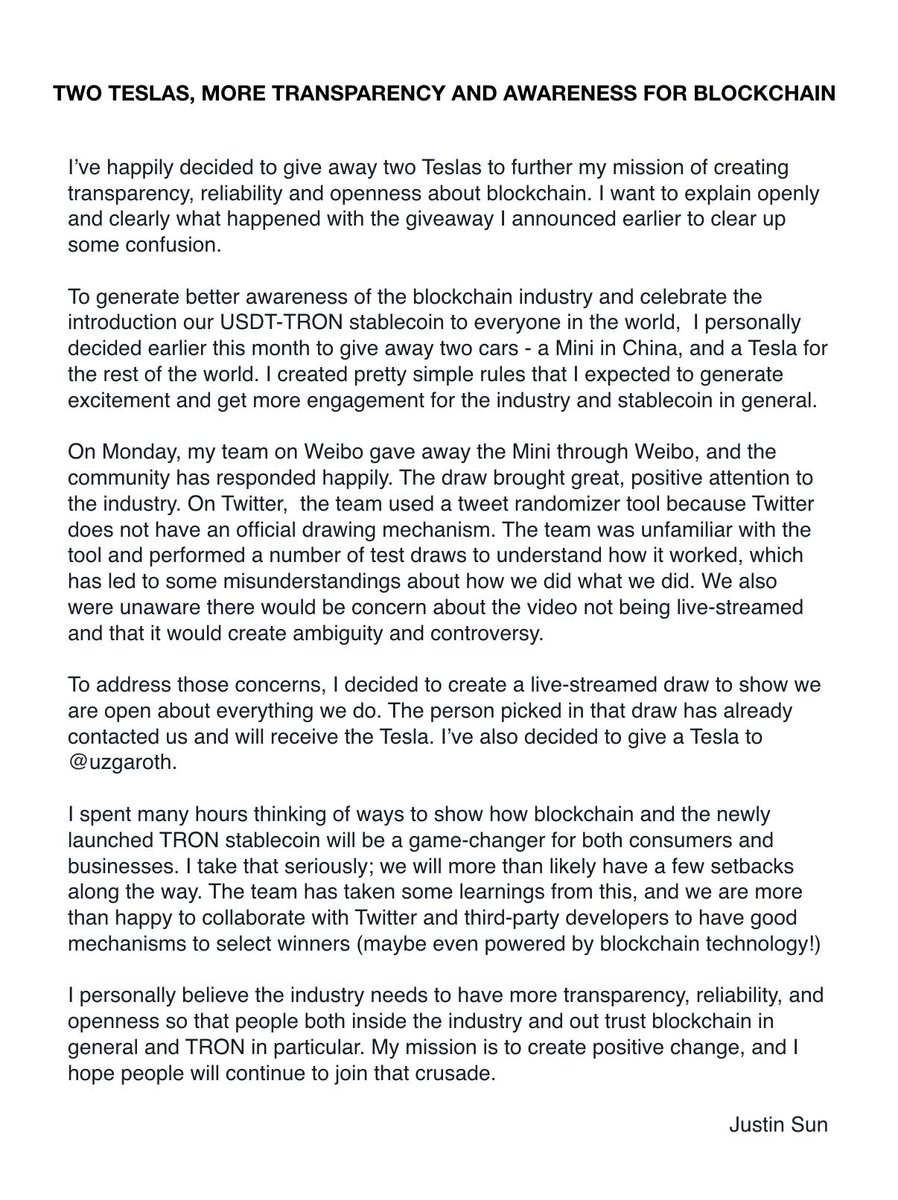 The cryptocurrency creator said: "Congratulations @uzgaroth (XRP_UzGar) & @LeoHuynhPro thanks for believing in our mission."
Justin Sun personally contacted the XRP supporter informing him that the Tron community accepted to finally give him a Tesla. The decision brought the cryptoTwitter war to an end.
XRP_UzGar thanked all those who supported him throughout the discussion, saying "this is a triumph of the whole #Crypto community. Earlier, XRP-UzGar had condemned the decision by Justin Sun.
"I thank all those who support me, this type of scam must end in the #crypto community, it is unfortunate that @justinsuntron acts in a seemingly dishonest act, we will continue to fight until we get to keep his original promise."
Behind The Crypto Fight
After Tron Foundation promised to give a Tesla Motor to the winner of his earlier announced USDT-TRON Car Lottery, the crypto evangelist recorded a video detailing the TWrench application that is to be used for the draw.
Then, Tron confirmed that the lucky winner is @uzgaroth (XRP_UzGar). Shortly afterward, Justin Sun canceled the draw on the ground of transparency and decided to do a live stream of the draw.
"We shared a video of the selection process for transparency. Due to the large size of the video, Twitter wasn't able to compress it properly resulting in a glitch. We will contact Twitter to make sure this doesn't happen again. We apologize to the community for the mishap."
He said: "For full community transparency, we decided to cancel the previous result and so a live stream draw instead."
After that, cryptotwitter stood in support of @uzgaroth, forcing Justin Sun to apologise. Sun said the non-livestream means may result in "ambiguity and controversy".
The Tron community then offered XRP_UzGar a compensation:
"However, I do recognize that this is an unfortunate situation, and would like to extend my warmest welcome to the next #niTROn summit in 2020, including a fully paid round-trip ticket to the event location. We are very grateful for your continued support. #TRON"
The compensation, according to many observer "is nothing but a mockery". Now Sun and the Tron community have accepted to offer him the Tesla.