Newly launched decentralised exchange owned by security guru and crypto pundit John McAfee has announced the start a bug bounty and "Spend A Day with John McAfee" programs.
In a separate message to the whole cryptocurrency community, McAfeeDex asked developers to help audit its line of code, build atomic swap functionality, build front end, among other features required of a global decentralized exchange.
Calling on developers to help look into the codes, McAfeeDex states that the Smart contract and front end of the decentralized exchange are open sourced and readily available on GitHub.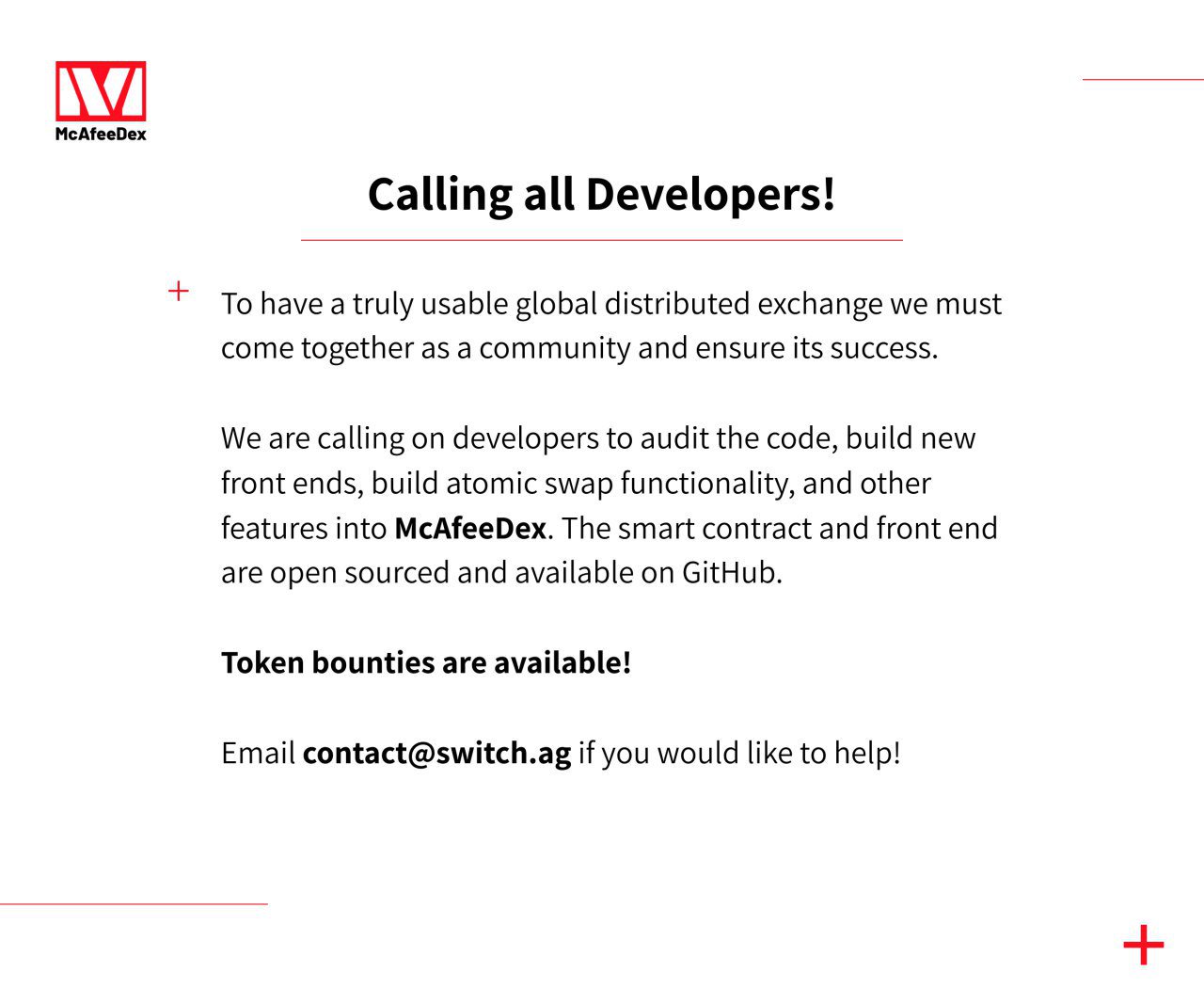 As well, the management of McAfeeDex rolled out a program branded ESH trading competition where a  person will be eligible to spend a day with software developer John McAfee.
The competition, which started earlier today and expected to end on October 30th, offers winners 5 ETH, 20,500 ESH, gift cards and a trip to enjoy a day with John McAfee on an undisclosed Island.
Accounts with active interaction on McAfeeDex from now till October 30th have the chance of becoming a winner of the FREE trip to meet McAfee.
All forms of trades on SwitchDex or IDEX or McAfeeDex drives accounts closer to the trading contests.
The address with highest volume of trades in ESH go home with the grand prize which includes 3 ETH, 5,000 ESH, and a $50 gift card, while the 2nd to 5th addresses by volume earn 0.5 ETH, 2,000 ESH & a $20. Also, 6th to 20th addresses by volume are to receive 500 ESH.
McAfeeDex has been the talk of the town since it was launched. Crypto Twitter conjectured that the exchange may be haunted by the U.S Security and Exchange Commission (SEC), however, McAfee remains unperturbed.